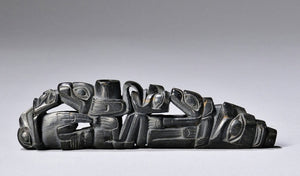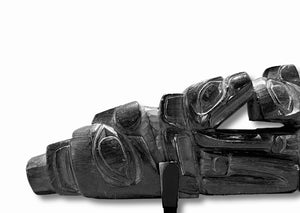 Haida Argillite Pipe
Finely carved panel pipe, with elaborate openwork throughout, depicting various stylized totemic animals and humans. With eagle and man at rear,  half man and half bear at center. Written on the underside: "Queen Charlottes Island, N.W. Coast America". Resting on contemporary metal stand.
• North West Coast; 1840-1860
Dimensions: 2 x 6.75 x 0.75 inches (5.1 x 17.1 x 1.9 cm) without stand.
#M2867
Inquire about this item (Please mention Item # or Title in your inquiry)