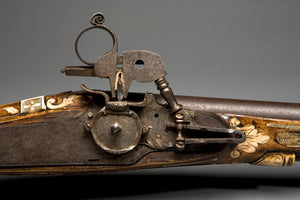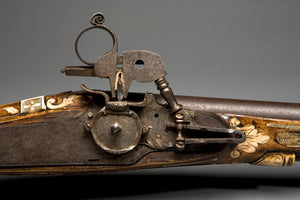 Fine Wheelock Sporting Rifle
The nicely formed cylindrical barrel of 30 ½ inches, is rifled to 70 caliber. Sighting channel, brass fore-sight and vacant rear sight dovetail. Flat lockplate, with  external wheel within pierced steel bridle. Ivory and mother of pearl incised inlay over Fruitwood stock. The tip of the rifle is made of horn. Hunting scene is inlayed on butt of rifle where a dog chases a bird. Lockplate engraved with repeated motifs of animals such as, dogs, rabbits and birds. On the reverse side of the butt there is a deer inlayed in ivory. Oval ivory is inlaid with bore and wolf as well as other animals engraved. End of stock inlaid with engraved bone. 
•  European possibly German, 17th/18th century
Length:  44.5 in. (113 cm) 
#M1639
Provenance:
Private European Collection
Acquired by Max Klein, Montreal, Canada 1970's and hence by descent.
Some restrictions on shipping may apply.
Inquire about this item (Please mention Item # or Title in your inquiry)