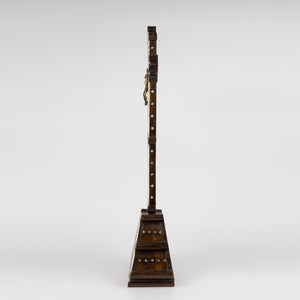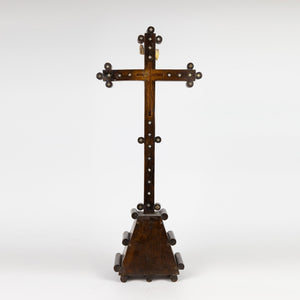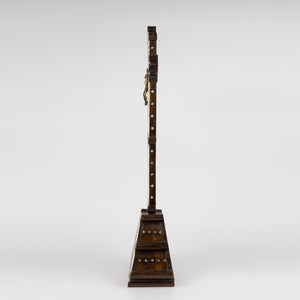 Mother Of Pearl And Bone-Inlaid Crucifix
Malankara eastern rite of the Catholic Church. With an ormolu corpus on a cross inlaid overall with a geometric pattern and florettes, on a pyramidal base with the symbols of the Franciscan order and with cylinders affixed to the cross and base. Rose of Sharon finely inlaid with mother of pearl along with the Jewish Cross in Greek fashion 'Enochian'. On the base the rendition of the holy spirit is shown by a flying dove which is surrounded by glowing  rays all in mother of pearl. Below two crossed hands, hands of Christ offering prayer surrounded by sheaves of wheat symbolizing blessing and prosperity. The three round knobs at the top of the cross, at either end and along the base represent Trinity; father, son and the holy spirit. The two knobs along the shaft represent Human and Divine.
Probably made in a Monastery by monks.
Indo-Portuguese-Goa/Gujarat/Middle Eastern; Late 17th/18th Century
Height: 25 in. (63.5 cm)

PROVENANCE: Christie's Sale #2090, April 21, 2008 Lot 160.
#M1874
This unusual crucifix, with its lively and sophisticated, yet eccentric design, is a classic hinge piece between the East and West. Here, a familiar Western form is slightly adapted by Eastern materials and craftsmanship and the local design traditions.
An almost identical crucifix, of exactly the same form, materials and with the same mix of geometric and floral inlay is in the Franciscan Church at Livorno (see Can. E. Mai, La Chiesa della Madonna in Livorno: una chiesa tutta dialogio, Livorno, 2001, cover illustration). For additional examples of several other of these unusual objects, and for a discussion in the difficulty in precise attributions for these pieces made over an area from the Near East, specifically the Jerusalem area, to the Indian subcontinent, see N. Vasallo e Silva, No caminho do Japão, 1993, cat. 8 and 9. 
Inquire about this item (Please mention Item # or Title in your inquiry)